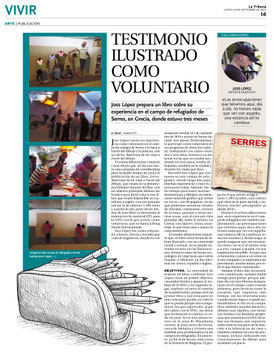 SERRES - Reportage of a journey through sketching.
On September 24, the newspaper La tribuna published the following article:
'A testimonial volunteering by illustrations'
Joss López tells about his experience volunteering in the Serres Refugee Centre and he does it by drawings and paintings through the book 'Serres - Reportage of a journey through drawing.'
He also commented to this newspaper that -'the 1st of October 2020 I launch a crowdfunding campaign to raise funds for the publication of the book, which will be held on the Verkami platform for 40 days. The main objective is to obtain funds to give life to this book. The target is to get 3,100€ by the patrons. Part of the funds will be bestowed in form of PPE supplies to the NGO I volunteered, Lifting Hands International.'
Joss volunteered in Serres in northern Greece, and remembered that -'I left England, where I was living until that moment, and I went to Serres for three months. I particularly was involved in the Child-Friendly Space program with children from two to six years old. I was drawing every time I could,around the city and during the trips I did.'
- 'A three-months experience, of course, it gives you time to get many experiences. Also, there was time to make illustrations and drawings. An interesting graphic material that I got in Serres.
The book has 96 pages, in which we can find portraits of children, kids, volunteers, landscapes and so on. Almost 100% of the artworks were painted on-location in Greece. I used many different art materials such as pencils, inks, watercolors, and whatever I had closest to me.'
The Albacete creator commented -'the book takes the form of a picture album with a visual and textual content. Texts cannot be understood without the images.'
The artist highlights that -'this experience changed me completely, the concerns we have day by day normally, have nothing to compare with that. A stay there changes you in all senses and of course, I can assure you that I would love to return or even help in the Aegean islands. It has been an incredible experience. So for now, let's see how this campaign goes and if it is succeeded.'
Although day to day, he avowed, -'it was complicated, there was time to sketch thanks I always carried my notebook both in the field, and when I went out. Watercolors requires time, so I reserved this for my trips or when we finished the day in the field. I made a lot of ink-sketches and drawings.