The aim of this project is to publish a picture book that recounts my experiences lived as a volunteer with refugees in the north of Greece.
A trip around central Macedonia where I volunteered with the NGO Lifting Hands International with Yazidi refugees and visited the cities of the region. Residents come from northern Iraq and the Sinjar region. Currently, part of the Yazidi community is relocated in this placement after the 2014 Genocide by ISIS.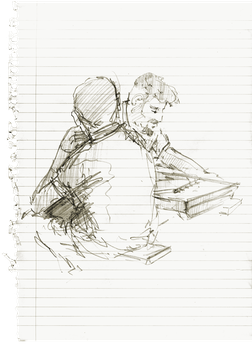 As an Urban Sketcher, I began to create a diary to document this project in an illustrative format. In this book, I manifest my experiences, the people I met (volunteers, refugees, locals, and so on), and places visited.
Portraits, landscapes, sketches, and illustrations set up the graphic appearance of this book that, as a visual report, I intend to publish.
Most of these works were made out of on-location in concrete time.