In addition to other rewards, there are 3 different series of limited editions of 30 numbered prints each are offered to patrons.
Printed in high quality on 324gr Mohawk Eggshell paper.

Mohawk Superfine
Mohawk Superfine is the finest printing paper made today.  No other paper has the same reputation for quality, consistency and uniformity.  Superfine inspires great design with its superb formation, lush tactility, archival quality and timeless appeal. 
PRINTS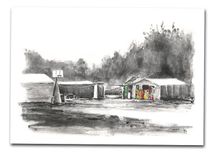 Print S1 'LHI's Refugee Center' 
The Refugee Center is the space where refugees are supported by education and healing programs by LHI, located 100 meters from the Serres refugee camp.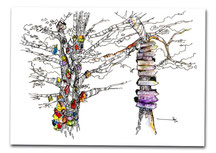 Print S2 'CityZen's trees'
Next to the walls and the Byzantine Acropolis of Serres, we find the CityZen. A charming place where they serve food and drinks and from where you can see the whole city. These two stunning trees crown the place.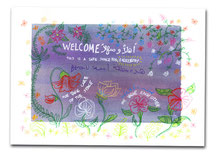 Print S3 'The Welcome'
This is the friendly message that is located at the entrance of the Refugee Centre and that welcomes everyone who comes to no matter where you come from.